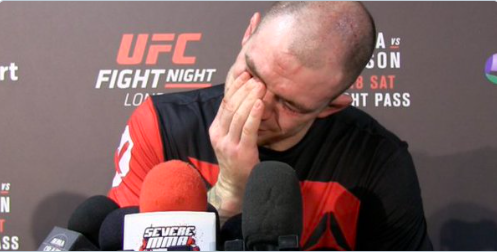 With 7 fights already in the UFC Brad Scott who is based in London was set to take on Jack Marshman in a fight at 170lbs that was scheduled to be Marshman's first at Welterweight.  Marshman was going to be making his debut in a new weight class after going 2-2 at Middleweight within the organization.  Mid week the UFC canceled the fight, giving Brad Scott half of his purse and a booking on the upcoming UFC Liverpool event.  The reason for the cancelation was none of his own, the promotion canceled the fight over health concerns with Jack missing the weight cut and having banged his head.
Scott originally went to social media to voice his frustrations, however later deleted his words saying that he didn't want his rant to be represented as going against the UFC, rather he felt it was his opponents responsibility.
Talking to MMA Junkie, Scott said "Obviously I'm very disappointed. But people seem to be getting the wrong end of the stick when they think I'm blaming the UFC for not paying me. I'm not blaming the UFC. I'm blaming Jack. It's Jack's job to make weight. It's Jacks's job to turn up and fight. It's not the UFC's fault."
"I was walking around at (182 pounds) and I turned up on the morning (of the weigh in's) at 171. "I said I'd make the weight, and if any of the welterweights didn't Mae the weight in the morning I'd be a stand-in. I said I'd even fight a middleweight if a middleweight dropped out."
Scott went on to say that weight was not a point for him and that he would have reached out and said he couldn't make weight that he would have agreed to a catch weight stating "I was a late replacement I was the one who had to cut all this weight, and I still (expletive) made it. It's not nice not putting a fork in your mouth, but I still made it."
"All of these interviews and super photos he was putting up saying he was on weight. Clearly that wasn't true, was it?  it just seems very wrong and very unprofessional to me. It's Jack's fault, not the UFC's."
Scott is looking t get rebooked at UFC Fight Night 130 on May 27th,  but until then is going to assume work with a company Called Bristol Waste Clearance where they "go into properties where tenants have been evicted and clear out the property and put into storage or scrap it. We have to remove heroin needles and drugs and stuff." because the result of him not getting paid fight week has caused him to go into debt.
Scott travels to the USA for training camps and says that following all expenses for the fight he is about 2,600$ in the negative which will cause him to take a job an additional job to make up the shortfall and help ends meet until he can get paid from his next fight.
"It would be really nice if the UFC looked after me and gave me my Reebok money for this week" Scott said. "I've worn their gear every day this week, and I'll be wearing Reebok to the fights tomorrow. Even though I can't compete, I'll still be there, and I'll still be wearing Reebok. It'd be nice to get the $5,000 which to a company like Reebok, is (expletive) all, by the way. And it'd be nice if they gave me my turn up bonus (show money). I don't expect a win bonus, but I expect enough money to pay for the camp I've just done so I can get ready for the next one."
Wow, he didn't even get his Reebok money- or whatever they are calling it. Fighters go to https://t.co/2ge9mLExJX and sign an authorization card, this is something that every fighter can agree on – good training camps are tough and expensive, this policy needs to be changed. https://t.co/In0O4arOuQ

— Leslie Smith (@LeslieSmith_GF) March 18, 2018
While Brad Scott is dealing with this issue privately with is management and his team, Leslie Smith has been advocating for a collective bargaining amongst UFC fighters, and went to twitter to use this example as a call to action.

If you are looking to start off the summer right, get started with my functional meal and diet plans.  Working together with the creators of the Better Human App we have developed an easy and convenient shopping list and meal plan that will help you reach your micro and macro intake needs.  To get your hands on the plans, click here!