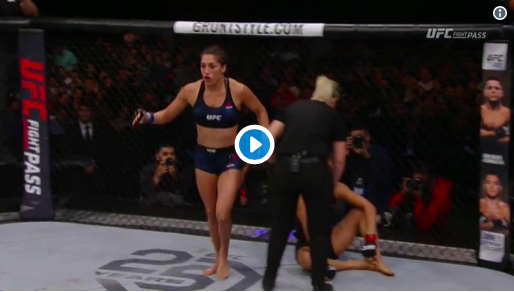 UFC Fight Night 128 was the first time the UFC had visited Latin America country of Chile, and the action did not disappoint any of the fans.   The UFC was a promotion the country had lobbied for and fans had been wanting to make a visit to their country for sometime.  The Co main event was to feature Alexa Grasso, a star in Latin America against Tatiana Suarez of California.
Suarez impressed many in the crowd as she stormed into the cage and took the action right to Grasso, never giving her an opportunity to get her boxing going or the chance to display her skill.  Suarez got the fight to the floor quickly and then transitioned to a rear-neck-choke, after securing it and taking her time, Suarez eventually got Grasso to tap out.
HERE'S THE TAP!

All @TSPMMA115 needed was one round. #UFCChile pic.twitter.com/WVi9OgyaSq

— UFC (@ufc) May 20, 2018
STILL UNDEFEATED! @TSPMMA115 #UFCChile pic.twitter.com/1iPbR0yC8A

— UFC (@ufc) May 20, 2018
The victory kept Suarez undefeated and established her as a legitimate threat for anyone in the division. For Grasso the loss was a setback, however she is a big prospect after having established her resume while fighting for Shannon Knapp at Invicta FC. The loss was her first Co-main event opportunity, however Grasso will look to regroup and come back for another high profile opportunity.