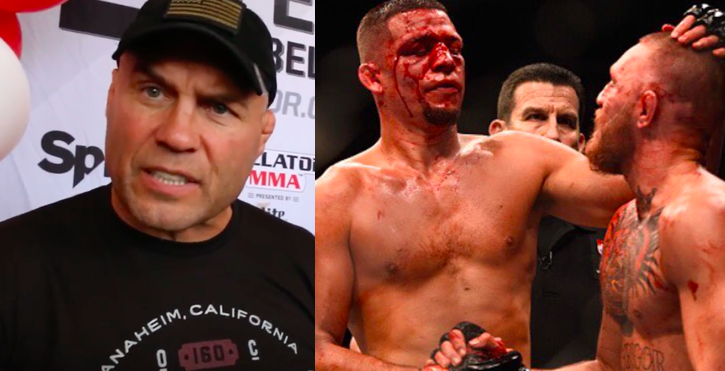 Do you think Conor McGregor deserves ownership in the UFC when he comes back?  This is a topic because Conor McGregor following his UFC 205 post fight press conference asked, "Where's my share? Where's my equity?" "I'm the one that's bringing this, they've got to come talk to me now. I've got both belts (featherweight and lightweight), family on the way. If you want me to stick around-if you wantme to keep doing (this), Let's talk. But I want ownership now. I want the equal share.I want what I deserve, what I've earned."
Dana White the president of the UFC didn't stop Conor in his tracks.  In fact he told TMZ that "a lot of people bought in on the ufc. Banks, celebrities, and everyone else. Listen, you want a piece? He's got a lot of money. Come in and buy a piece, man."  White went on to tell MMAJunkie "there's a lot of people who feel like they're worth this and they're worth that-we know what this kid's worth." and went on to say "It's never been done, but anything is possible." as reported by Forbes.
Randy Couture gave his opinions on the idea recently while talking to Submission Radio
"[Conor McGregor]'s the poster child for why we need the amendment for Mixed Martial Arts. It will be interesting to see if he comes back to MMA. There's been a lot of rumors and a lot of talk. Has he been stripped of both his titles? Is he gonna come back and fight again? What's gonna happen? Who's he gonna fight? And the big question, what's he gonna get paid after just getting paid 100 million dollars for a boxing match, even though it was just an exhibition and not for a title?
"What's he gonna get paid the next time that he comes back and fights in MMA under the UFC moniker? Why would he expect to get paid any less than he got for boxing? I can guarantee you they are not gonna give him that kind of money. So again, why? What's the difference? Where is the flaw here?"
"It's all these things that I've been talking about with regards to why we need to be protected by the federal legislation. There needs to be transparency in our sport. The exclusive contracts need to be eliminated. We shouldn't be coerced into giving away all these things in order to be ranked and fight for a title.
"I should be able to know how much money is made off of any show that I fight in, so I can negotiate for my share of that, my portion of that. So if I'm Conor McGregor, he probably feels like he deserves a bigger piece, and certainly 15 percent of it or 17 percent of it as he's the guy putting butts in seats and having people sell pay-per-views.
"So all those things get brought into question by what Conor's done so far. We would love to obviously have him involved and testify or be involved in pushing the Ali Act through. He's aware of us, but so far he's been very focused on his own deal and doing his own deal. So it will be interesting to see how that shakes out for him."
What do you think? Will Conor McGregor be paid a partner the next time he promotes a fight inside the Octagon? Let us know your thoughts in the comments.

If you are looking to start off the summer right, get started with my functional meal and diet plans.  Working together with the creators of the Better Human App we have developed an easy and convenient shopping list and meal plan that will help you reach your micro and macro intake needs.  To get your hands on the plans, click here!