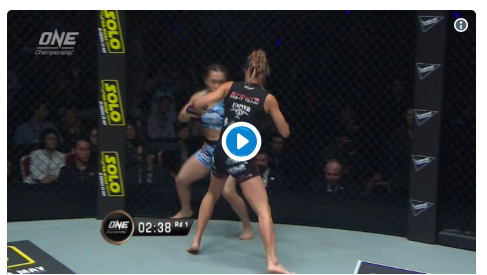 One Championship is one of the few shows globally that does not use the Unified Rules of Mixed Martial Arts where a 10 point must system is used- meaning a winner of a round must be awarded 10 points, and the totals for each round are added up declaring the winner at the end f the bout.
For One Championship the most important scoring criteria for fighting was suppose to be a near knockout or submission, followed by damage done.  The third criterion is striking combinations, ground control, generalship, and control superior positions.  Takedowns and takedown defense are fourth in consideration, with aggression being the final criteria for scoring.
The fight itself saw the first round lay out mostly on the feet with Yamaguchi countering effectively landing several right hands until Lee was eventually able to get a takedown early in the second frame. Yamaguchi was able to escape a close armbar attempt and use the scramble to stay on top as the round finished.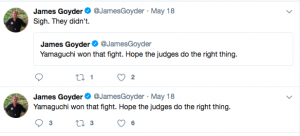 In the third round Yamaguchi was able to implement her power right hand again as both fighters kept it standing until Lee was able to get a the back of Yamaguchi as time expired in the round.  Round 4 saw Yamaguchi start to take momentum back as Lee was staggered with a right hand while attempting to throw a knee.  The punch stopped Lee from going forward as she spent the rest of the round on her back trying to recover.
Round 5 saw more of Yamaguchi pouring it on as she landed a body kick that took Lee to the mat where Yamaguchi was able to again establish top position.  At the end of the exciting 5 round fight, much to the dismay of the Singaporean crowd, Angela Lee was given a split decision victory.  While Lee improved to 9-0 and made a successful return after a serious car accident last year–the crowd displeased with the decision boo'd the scores as they felt Mei Yamaguchi who fell to 17-11-1 overall had done enough to win the decision. Angela Lee is currently nominated along with Cris Cyborg for the MMA Fighters Only Award show. Fans can vote for Female Fighter of The Year HERE.
Angela Lee overcame all fears and insecurities she had from her car accident, scoring a unanimous decision win over Mei Yamaguchi and retaining ONE gold! #UnstoppableDreams #Singapore #MartialArts pic.twitter.com/rC6Kxr9Z5O

— ONE Championship (@ONEChampionship) May 18, 2018