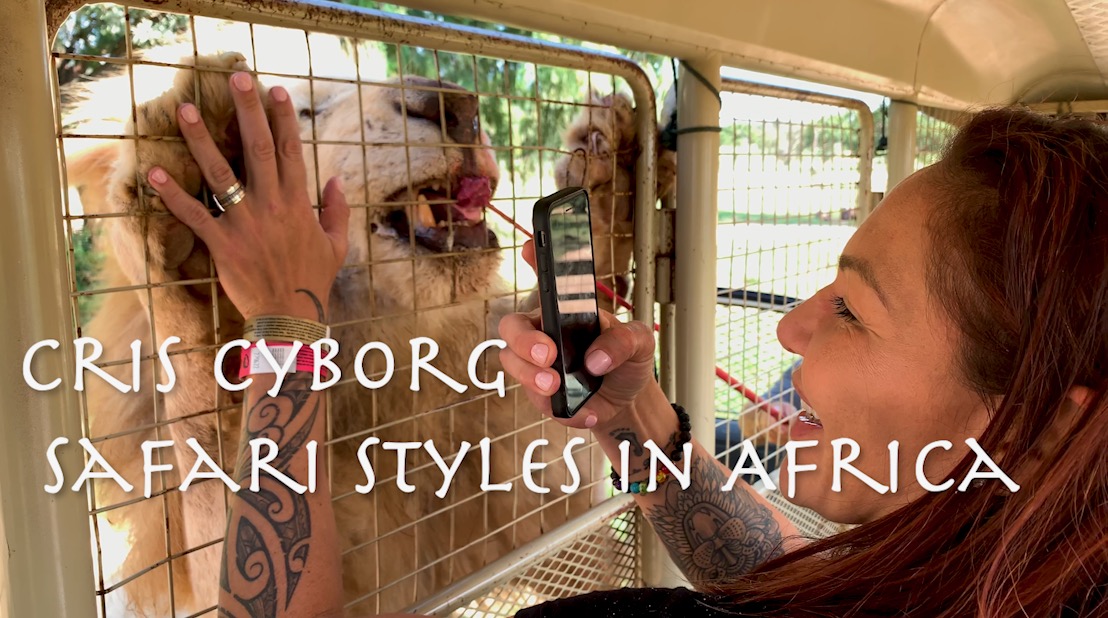 Cyborg Nation, we have landed in Johannesburg South Africa!  While I must admit I am a bit jet lagged from the flight, I am excited to already be sharing the first episode of our 7 part travel series.  In this episode fans get an opportunity to see me arrive as my host UFC fighter Don Madge picks me up from the airport before bringing me to my accommodations.  For our first adventure we headed to a South African Safari giving us an exclusive chance to see animals protected from poachers in their natural habitat. The car I rode in had a cage, however last year my guide was telling me that another tourist had parked their car and were unable to restart their vehicle and died from a lion attack…scary thought when you see how close my hair was to the cage while feeding the King of the Jungle.
Luckily we survived the South African safari.  Everyone knows how I love to get my hair braided, so after asking around I found a local salon to have a 'Ladies Night'. With my hair did, it was time for me to head to the gym.  While I am in Johannesburg South Africa I will be training with teammate Don Madge at his home academy of Apex BJJ under head instructor Richie Quan.
In the next episode we will exploring more of the culture, sites, and places to see in South Africa.  Please hit the subscribe button and turn on the notifications so you do not miss any of the videos from this Cyborg Nation Destination: Africa digital series! #CyborgNation make sure to take episode 1 and share it on your twitter, fb, and WhatsApp!
Visit the producers of our digital series;
Extract Labs offers a proprietary line of boutique CBD-infused products grown locally in Colorado before being 3rd party tested for purity. With the ability to ship to all 50 states in the USA, the veteran owned Extract Labs is bringing anxiety, pain and inflammation relief to thousands of people.
PSO-RITE is the most versatile full body self massage tool on the market. The design mimics the hand and elbow. Giving you the same feeling when you get a massage from your massage therapist but you are in control of the pressure. It's great for releasing hard to reach muscles like the psoas, shoulders, hamstrings, lower back and neck.