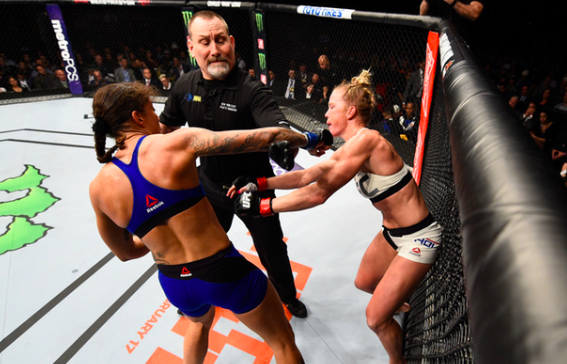 A veteran of over 37 professional Kickboxing fights, Dutch fighter Germaine De Randamie never suffered a loss in the sport until crossing over into Mixed Martial Arts competition.  GDR lost her first MMA fight to Vanessa Porto in 2008 and it took almost 2 years until she eventually got her first win in the sport by beating Nikohl Johnson by decision at Playboy Fight Night 5.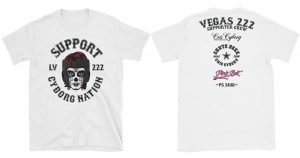 Eventually signing with Strikeforce GDR went 2-1 in the promotion making a decision loss against Julia Budd and picking up wins over Hiroko Yamanaka and Stephanie Webber. Starting her UFC career with a split decision win over Julie Kedzie and a TKO loss to Amanda Nunes at UFC 185, GDR got the call for the inaugural featherweight championship against Holly Holm at UFC 208 in 2017 despite not having fought at 145lbs since 2012.
Picking up a 5 round decision over Holly Holm at UFC 208, the PPV did surprisingly low sales for a card that featured big names such as Holly Holm, Jacare, Dustin Poirier, Anderson Silva and the debut of a new weight class. The fight was a close controversial decision with 14 out of 23 media outlets recording the bout in favor of Holly Holm. Following some controversy of a late strike, both Holm and GDR claimed to want a rematch.
Last May the UFC stripped GDR of her world title following a statement she released on her social media saying that she was going to be moving back to Bantamweight and was not willing to fight Cris Cyborg due to a failed PED test in 2012. On June 19th, 2017 the UFC officially stripped Megan Anderson of her Championship Belt and announced Cyborg would fight Megan Anderson at UFC 214 for the title.
Cyborg went on to fight Tony Evinger, and Germaine De Randamie said she was returning to the bantamweight division.  Scheduled to face Marion Renee at UFC Fight Night Struve Vs Volkov, De Randamie pulled out of the fight with an injury.
Last February Germaine De Randamie was against scheduled for a bout, as she was suppose to face Ketlen Vieira at UFC FN 125, however a hand injury forced her out of her second scheduled fight after being stripped of her world title.
Our sources are now telling us that Germaine De Randamie is again interested in attempting to make her return to the ring for the first time in almost 14 months and may have abandoned her desire to return to the 135lbs Bantamweight division.  If she does return to 145lbs GDR will need a fight against a contender to show she can complete a camp and make it to the night of the fight after two straight promotional no- shows after having bouts announced.
Currently Holly Holm is scheduled to face Megan Anderson at UFC 225 a bout that many feel could decide the number 1 contender at Featherweight and who will be facing Cyborg next.  While fans, and both fighters called for a rematch following the UFC 208 showdown between Holm and GDR it appears that Holly Holm would have to get past Megan Anderson first before the rematch could be scheduled.
When asked about the possibility of GDR returning to Featherweight Cyborg had this to say, "She would be a great addition to the weight class, however due to her vacating the title and not making two already scheduled bouts after having them announced with the promotion, she will need a win against someone like Megan or Holly in the featherweight division before those negotiations can be taken seriously. People need to realize the UFC made me sit-down while they decided what they wanted to do with GDR at a time I was ready to fight"
Do you think we will see Germaine De Randamie return to the UFC this summer?  Will she be making the return to Featherweight or staying at Bantamweight? Who do you think wins a rematch between GDR and Holly Holm? Leave your comments below.