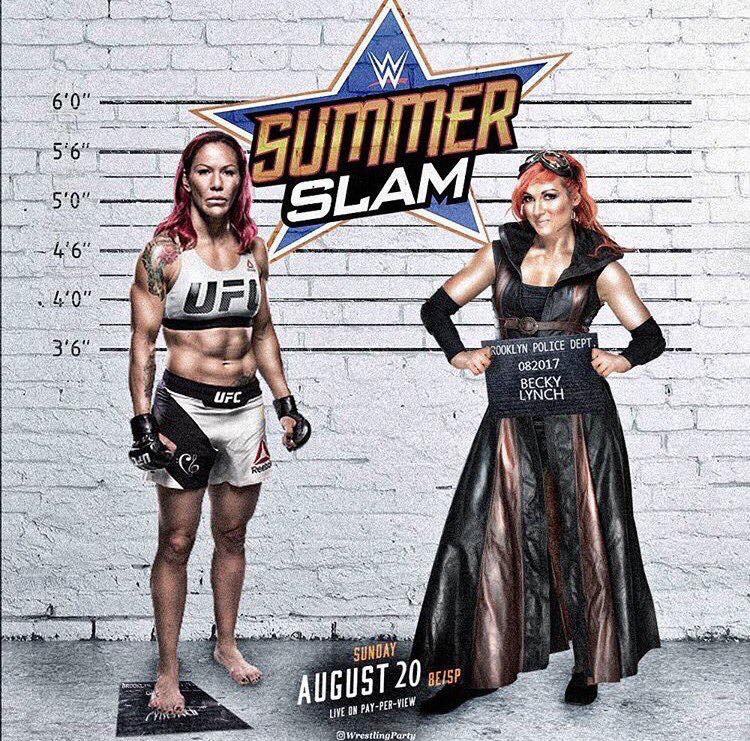 The internet is a crazy place when it comes to rumors, however the latest seems to be gaining more and more attention, and where there is smoke there is usually fire!!! With recent rumors swirling that Cris Cyborg of Brazil will be facing Becky Lynch of Ireland at Summer Slam 2017, the attention has got a lot of fans talking! Will the WWE capitalize on the momentum stars like Brock Lesnar and Conor McGregor have been able to create for combat sports with their ability to blur the lines betewen WWE, UFC, Boxing.
Lesnar who is rumored to return to the UFC, is scheduled to make an appearance at SUMMER SLAM August 20th, with speculation that if he was to lose his WWE championship he would leave the WWE promotion.
Becky Lynch Vs. Cris Cyborg is an interesting storyline for the WWE as the rivalry of Ireland Vs. Brazil is still very fresh in many MMA fans minds with the Mcgregor Jose Aldo saga which eventually ended by Conor Mcgregor securing a 14 second KO over Jose Aldo to capture the UFC Featherweight World Chamionship.
World Wrestling Entertainment or WWE is has a global audience, but the viewership of Cris Cyborg specifically in Brazil has to be an attractive opportunity. Cris Cyborg has consistently proven herself as one of the biggest stars for live ratings on Brazilian TV when she fights.  One thing is certain, the WWE will listen to their audience and so fans wanting to see Cyborg compete inside the 3 rope ring should send their tweets direct to the WWE and let them hear from #CYBORGNATION