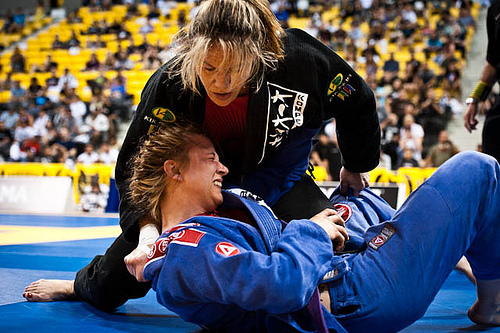 There have been others who have tried to stake claim to the "Female Mike Tyson of MMA" but the truth is, no other woman has had such a dominate reign as champion with as many KO victories as Cris Cyborg.  A true Chute Boxe legend from Curitiba Brazil, Cyborg has an impressive 15 year career where she has amassed an astounding 22-2-1 professional record as an MMA, Mixed Martial Arts fighters.  With 22 victories, Cyborg has won over 80% of her fights by KO having only been taken to a decision by Boxing Champion Holly Holm, Invicta Champion Felicia Spencer, Japanese NHB legend Yoko Takahashi, and Brazilian BJJ Black Belt Vanessa Porto in Cyborg's 2nd professional fight.
With 25 professional fights, Cyborg sat down with James Lynch for the first episode of "The CatchUp", a weekly 1 on 1 catch up interview with Cristiane Justino covering the latest news for Cyborg Nation fans hosted by Canadian standout reporter James Lynch and the only Grand Slam Champion in Ultimate Fighting, Cris Cyborg.  Cyborg went on to tell James "She will be a nice opponent for me. She will be a nice Challenge for me.  She is #1 contender.  You know I am very confident in my strike, my wrestling, my grappling, maybe this fight I can try to submit..I can try something different, but you know I'm always for finish the fight, and it will be an exciting fight."  Cyborg a veteran of over 25 professional fights has never won a fight via submission victory despite being a 2x IBJJF World Champion competing in the Kimono and having earned a medal at the ADCC nogi championships, training extensively with ADCC Grand Slam Champion Cobrinha, Cyborg has been working hard on her Brazilian Jiu Jitsu training.
While Cyborg did not come out and say her next fight will be against Bellator's #1 contender Arlene Blencowe, she did say that is who she is preparing for and ready to face, and that she is already in preparations for an upcoming fight announcement. With Bellator MMA recently returning to the Mohegan Sun casino in Connecticut fans are wondering if this will be the return site for Cris Cyborg or if she will headline one of the rumored European shows expected to be announced by Bellator MMA during the upcoming weeks.  Bellator MMA has returned to Paramount TV and is the home of Friday night fights.

Be sure to visit the online Cris Cyborg Store for all your Cris Cyborg merchandise, apparel, gifts, and collectibles.  Order your own autographed 8×10 photo of The Grand Slam Champion anywhere in the world with a custom message wishing anyone a happy birthday, congratulations, or happy holidays.  Surprise the perfect MMA UFC Bellator MMA fan with the gift of a lifetime Order HERE.
Get your Official #TEAMCYBORG & #CYBORGNATION Gear & Merchendise here!