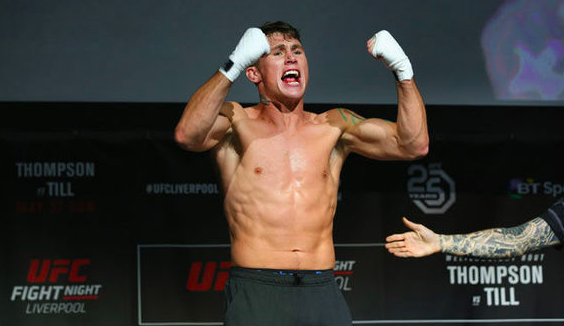 Few fighters in the world could pull of a fight entrance to Neil Diamond, however if you are Darren Till and you are fighting in the main event in your hometown of Liverpool England, the ONLY SONG you could walk out to would be "Sweet Caroline" by Neil Diamond, as it is the Liverpool FC song.
In one of the most epic walkouts Cyborg Nation has ever seen, Till got thousands of fans attending the fight to sing in their best Karaoke voice the lyrics to Sweet Carolina. The song which has become infamous in Liverpool because of football player Andrew Carrol and the crowd's chants for SWEET CARROL 9 in honor of the star football players name and jersey number.
The crowd rocked the arena as Darren Till made his grand entrance, even getting louder as he waited to enter the cage for one last chorus.  The fight was a stalemate for much of the match as both fighters are elite strikers and chose to counter each others moves.  Till was awarded a close and controversial decision, after missing weight for the fight.  The hometown crowd didn't seem to mind, and several people state their enthusiasm likely helped influence the outcome.