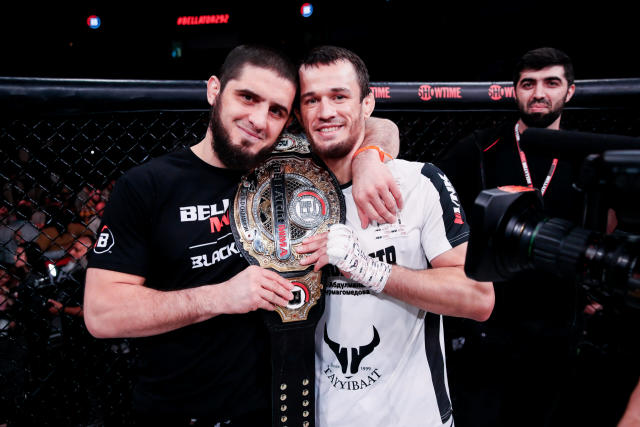 Cole Shelton of BJPENN.COM was the first to report that Bellator will be holding their 300th event in San Diego and that the fight will feature a lightweight world championship bout of Usman Nurmagomedov against former Bellator MMA Lightweight champion Brent Primus.
According to Shelton multiple sources have confirmed the Bellator 300 fight will take place October 7th in San Diego California at the Pachenga Casino.  One source told Shelton that the event could host multiple title fights as there is a chance it could become the final Bellator MMA event in the promotions history with a rumored purchase to PFL.
Usman Nurmagomedov is currently 17-0 and finished former UFC Champion Ben Henderson to advance into the quarter finals of the Bellator MMA 1 million dollar lightweight tournament.   Primus is a former Bellator LW Champion who is 1-1 with UFC Megastar Michael Chandler.
While a bout between Cris Cyborg and San Diego native Cat Zingano has not been announced yet, fans are expecting the fight to be added to the card as both female fighters have confirmed they are in camp for October fights.  Zingano owns a win over Amanda Nunes and Miesha Tate, while Cyborg is the only Grand Slam Champion in the sport with belts from every promotion including Strikeforce, Invicta FC, UFC, and Bellator MMA.  When Cris Cyborg was the main event at UFC 219 the Co main event was Usman Nurmagomedov cousin Khabib Nurmagomedov.  No word yet if Cyborg (who has a much larger following in San Diego) or Usman will serve as the main event for bellator 300.