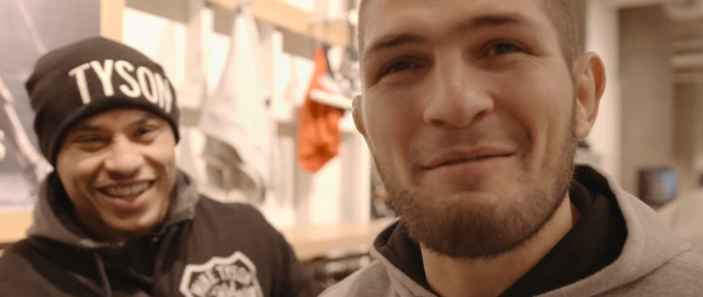 It appears at least according to a recent interview with MMA Hour by Dustin Poirier that the next fight for Khabib Nurmagomedov according to his manager Ali could be Dustin Poirier.  While the interim champion before UFC 223 was Tony Ferguson, with him having recent knee surgery and needing rehab there is no clear estimate of when he will be back to fight.
Conor McGregor with his recent legal troubles appears to be on the temporarily unavailable list as well.  While rumors that the UFC was getting set to announce a fight for McGregor swirled around the venue following his attack at the Barclay's center, the reality is without some sort of consequence from the promotion, WME should anticipate future outburst of violence by other fighters following the example and company culture.
If Conor Mcgregor is going to remain sidelined, and Tony Ferguson is injured, Poirier said this about the possible title shot
Dustin Poirier MMA Hour "I think it's pretty good chances, Tony's timeline is nine months and we got to see if Conor comes back, maybe he doesn't." Poirier said. "Khabib's manager reached out to me and told me I'm the next guy in line and they want to fight me."
Get your Official #TEAMCYBORG & #CYBORGNATION Gear & Merchendise here!