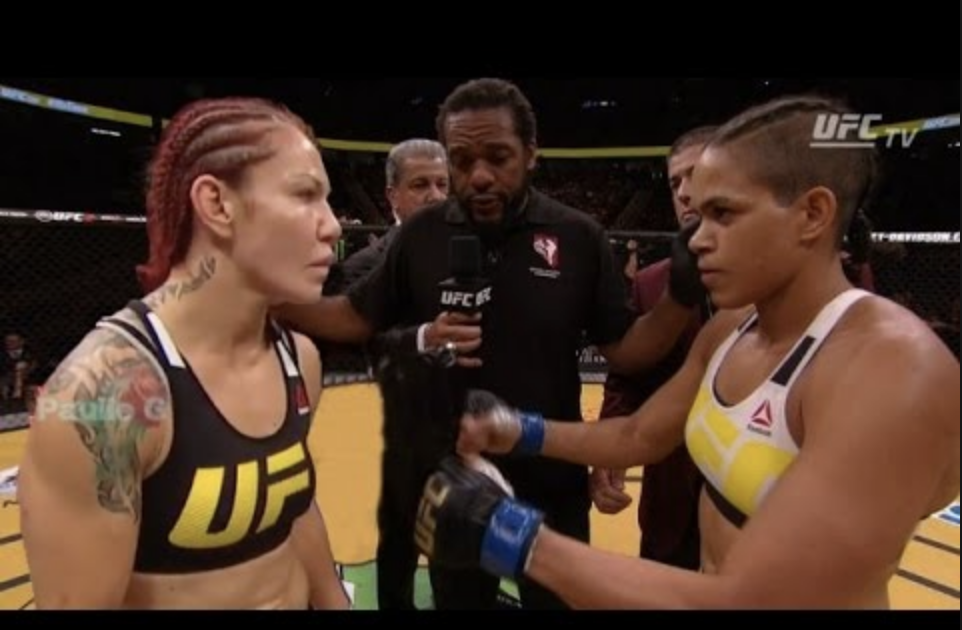 While fans have been asking for a fight between Cris Cyborg and Amanda Nunes ever since Dana White mentioned the possibilities, for whatever reason the bout still has not finalized.  Speaking to reporters Cris Cyborg took a few minutes to update fans on the progress of the Superfight.
Cyborg had this to say, "I am starting to think Amanda Nunes only brought up y name to negotiate a new deal with the UFC." Cyborg who saw Ronda Rousey, and Miesha Tate use a similar tactic went on to say "…she just wants to use my name to build her brand".
Nunes who publicly stated that she sent a Text Message to Dana White initially trying to set up the fight because she didn't want to wait around for a bout recently scheduled a fight for UFC 224 against Raquel Pennington in RIO, however Cyborg went on to say "when the UFC first called about accepting a last minute fight to save UFC 222 we tried to get Amanda Nunes, but the UFC couldn't get her to agree"
Cyborg who first responded to Amanda Nunes initially offered a July date following her victory Dec. 30th in Las Vegas saying, "I gave her 6 months to put on weight for July and she was telling people she wanted to fight sooner.  I offered her a fight at UFC 222 and she started telling people that was too soon."
The reality is Amanda Nunes who fought once in 2017, will have sat almost an entire year since beating Valentina Shevchenko by the time she fights at UFC RIO.
Cyborg showing frustration went on to say "People need to understand my management has put a lot of time into making the fight happen already.  July 7th will have been 6 months since the Holm fight and when Amanda first called me out.  She has had plenty of time to adjust to the Featherweight division.  Amanda isn't a small bantamweight, she just wasn't successful enough at 145lbs to earn a title shot against me.  When amanda canceled her fight against Valentina, it wasn't because of Sinus problems, people on her own team have told me it was from a terrible weight cut."
Cyborg who said that if Amanda Nunes doesn't want a fight in July and instead offers a date in the winter, that she should have to vacate the belt at Bantamweight before holding up the division for another year, as top prospect Ketlen Vieira has established herself as the next number 1 contender.
One thing is for sure, if the SUPERFIGHT is going to happen July at UFC International Fight Week, Cyborg and the UFC will have one more opportunity to see what type of Ratings Amanda Nunes can pull in Brazil and what sort of PPV sales she does in the USA to get a clear picture of what type of following Nunes brings to the Superfigfht.