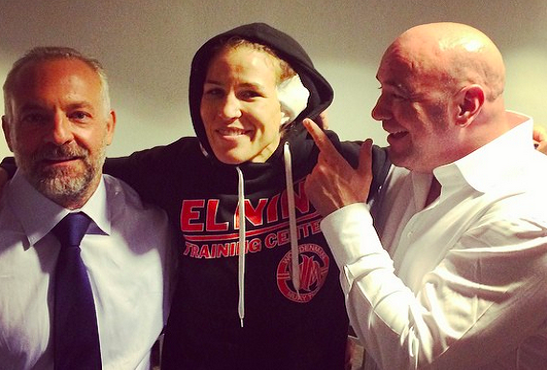 Big John McCarthy has been around the sport of MMA longer than just about anyone.  One of the original Ultimate Fighting Championship referees, he has helped groom the spectacle into a sport through helping with regulations and sanctioning to make the sport safer and more mainstream acceptable.
Leslie Smith who was released following the completion of the terms of her contract, when she was paid her win and show money after her opponent Aspen Ladd was unable to make weight at UFC FN 128 by almost 2 pounds. Smith who rejected the catchweight offer, had her bout removed from the fight card, but was paid her total fight sum.
The payout represented the final fight on her contract, thus making her a free agent–however still currently ranked in the top 10 and riding a multiple fight winning streak, Smith was informed that even resigning her to her current terms was not a deal the promotion was willing to offer, which has lead many to speculate it is because of her involvement with an attempt to unionize the fighters into collective bargaining.  Big John McCarthy gave his show of support though social media, check it out. Fighters interested in signing the Project Spearhead card to determine if they are 10-99 or employees of the UFC can find the form here.
@LeslieSmith_GF is a badass fighter and an even more badass woman. We all know why she got cut by the UFC. Keep your head up Leslie, your a fighter in so many ways and an inspiration to everyone who knows you!!!

— Big John McCarthy (@JohnMcCarthyMMA) April 20, 2018