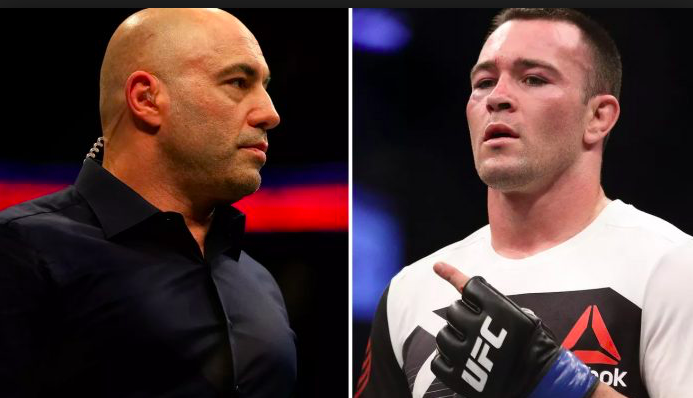 UFC 225 is just around the corner and in Chicago Former UFC Champion Rafael Dos Anjos will be facing Colby Covington for an Interim title for the UFC welterweight world championship, a title that is currently held by Tyron Woodley.  Woodley who has not fought since UFC 214, has been public with his dis-taste for the Interim belt having stated he will be ready to fight by July–less than a year since defending his world title against Demain Maia.
Colby Covington who recently took to social media to express his displeasure with Joe Rogan after his recent comments, even went so far as to imply he might slap Rogan when the two meet later this month in Chicago for UFC 224.  Rogan, never one to shy away from controversy used his podcast to respond.
"Colby Covington don't slap me," Joe Rogan said with a smile while discussing June's UFC 225 event. "You said you were going to slap me, but don't slap me. I was talking shit. I was telling him that Jon Jones might slap him. So he said 'I might slap you'. Listen, I like Colby. I like what he is doing. But he is talking a lot of shit, and I'm just saying be careful who you talk shit to. Talking shit to Jon Jones? That's one of the baddest mother f*ckers who has ever lived."
"He's making a lot of money," Rogan said of Covington. "The reason why Colby is fighting for the title, he reason Colby is going to fight Rafael dos Anjos for the interim title, is not just because he's beaten good guys, because he has beaten Demian Maia. But it's more importantly that he's going to put asses in the seats. Part of the fight business now. There's pre- and post-Conor McGregor, and post Conor McGregor the game has changed. It's red panties night, baby. Everything's different."
"That is not really it, I'm just going to be honest, this is not the resume of someone who you would normally see fighting for the title right now," Rogan stated. "I think he's fighting for the title based not just on beating Demian Maia, who's a really tough guy, but on the fact that he's a controversial, very popular character. Because he talks so much sh*t. And talks so much s**t about Brazilians."
Get your Official #TEAMCYBORG & #CYBORGNATION Gear & Merchendise here!